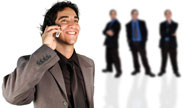 On Hold Messages Starting from $38.98! - Choose a Voice Now
You spend thousands on advertising to get them to call you. Now treat them right when they do!
On-hold messages let your customers know you haven't forgotten about them, and they are also a great advertising tool. While your customers are on hold you can tell them why your company is the best, or tell them about new product offerings. You pay only once for production, then the air time is free!
At Professional Voice Greetings we are happy to provide on-hold messaging starting from just $38.98 ($34.99 base price + $3.99 for the on-hold messaging option). Purchase by going to the Voice Samples page, select a voice, add background music if you wish, and write your script. Then, during the checkout process, be sure to select the button that asks if you are buying on-hold messaging.
Your file will be delivered to you with 15 seconds of background music (or blank airtime if you do not choose background music) after the voice message. This will give you 15 seconds of music (or blank airtime) between each message when run in a loop.
If you would like a pause in your message where just background music (or blank airtime) plays, place (...) in your script where you want the pause.
Please note that your phone system must have on-hold message capabilities to play an on-hold message. Click here if you need to find a phone system.

A voice over script must accompany every order. The music is not available alone.
Samples:
Sample 1 - "Thank you for holding. ABC Homes offers the finest in Luxury living in 10 new home communities in the metropolitan area. Whether you desire a luxury condominium, a townhome, or a single family detached home, we have the home that is right for you! Someone will be with you shortly."
Sample 2 - "Thank you for holding. Your call is very important to us. The answer to all your technical service needs is PQR Incorporated. PQR has set the standard for excellence in the Tri-State area and over 1,000 companies - large and small - have come to rely on PQR for their technical service needs. Thanks for holding."
Sample 3 - "Thanks for holding. Did you know that JK Mortgage has special programs designed to help people who don't qualify for a standard loan? We can customize a loan specifically to meet your needs. Ask one of our certified agents for information. Someone will be with you shortly."
Sample 4 - "We appreciate your patience while we are assisting other customers. Kitchens Plus has the largest selection of granite countertops in the state. Our design professionals will assist you in selecting the granite that is right for you, then they will walk you through every step of the design and installation process. Thank you for holding."
Sample 5 - "Thanks for holding. Dazzle your clients with delicious cookies featuring your company's logo! Orders are available for batches as small as 200 cookies! Someone will be with you shortly."
Sample 6 - "Thank you for holding. Someone will be with you shortly. At The Villages of Exeter, tennis, swimming, concierge services, and a championship golf course are all just outside your door. Visit our 5,400 square foot model and tour the clubhouse daily between 10 a.m. and 5 p.m. Someone will be with you shortly."